PL here ...
Bialys are pretty much a lost cause in New York, which is all the more a pity, since New York is where they made their first great stand in the late 19th and early 20th centuries....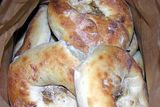 A bialy is, well, better than a bagel, even when bagels in New York were made by the original H & H, and other great bagel makers, and were out of this world. But the bialy ... that was something out of the stratosphere, light like a flying saucer, just baked, not boiled, and if the bagel was deliciously chewy, the bialy was ... well, light, yeah, with a white powder all over and shreds of onion in the middle... the unbearable lightness of being bialy.
It got its name from Białystok, Poland - also of Max Bialystock fame - but I always thought that the bialy also maybe had something to do with White Russia. As a kid, I would take a bialy over a bagel seven out of ten times (only kidding, I didn't really keep track), and they were always mouth watering.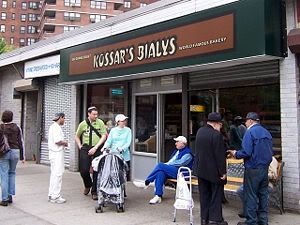 And they still were until not that long ago, too. My wife Tina and I would take the kids down to Kossar's at Grand and Essex, on the lower East Side, for late-night bialy runs. We'd buy a few dozen, and they were all but gone by the time we'd made the 40-minute ride back home. They were nowhere as good the next day, but they toasted up pretty well.
Kossar's lost the last of their ancient master bakers a few years ago, and they also told my wife that the NYC Board of Health told them that they could no longer grind the onions with the skins on, which is part of what made the bialys so good. And now, they still taste ok, even very good, but they lack that ineluctable delectability...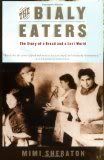 It's a good thing I write time travel stories - maybe I can figure out a way to get some character back to Grand and Essex, say, even just 5-10 years ago. Or, you can try Mimi Sheraton's fine book,
The Bialy Eaters: The Story of a Bread and a Lost World
.